Temporary & Emergency Rental Solutions
Do you have a breakdown? Failing consent? Need more oxygen (O2)?
It's time for a fast, reliable and cost effective solution from Advanced Group of Companies. We have a number of systems that can be added to your existing biological reactors or lagoons with no downtime in both municipal and industrial sectors.
Installation with no downtime to the treatment process. The FFBA system is modular, additions can be carried out with no disruption to the running of your plant.
No moving parts in the water.
Decrease in energy consumption and O&M costs.
When aerated properly by our FFBA system, outdoor problems disappear.
Additional air to your existing aeration system with no need to befit your plants infrastructure
SCLK Units can be feed by a Blower and be simultaneously used as a mixing system.
SCLK Units are portable and require no fixing to the tank floor.

A number of accessories available to include Strainers & Rubber feet.
Features
· No need to stop the Process
· Ready for Immediate Use
· Suitable for Crane or fork-lift truck lifting
· Low Energy Consumption available
· Easy to Install
· Mixer Guide Rail System no need to fix to tank floor
Accessories
· Pipework & Hoses
· Strainers on SCKL Available
· Drop in Mixer systems with Ballast
· Blower Rental Available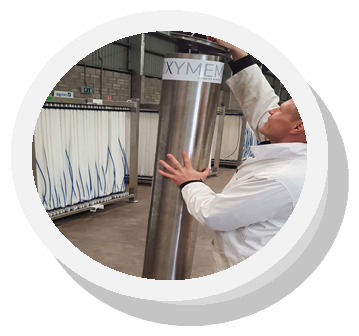 Advanced OxyTube Rental provides end users with an opportunity to experience advanced Membrane Aerated Biofilm Reactor (MABR) technology first hand, on their own wastewater facility, with minimal investment. The robust, high quality stainless steel OxyTube is 200mm in diameter and just 2m in length and can easily be dropped into a biological tank on your facility. For ease of access it can be clamped to a side wall or attached to handrail, and the complete installation will typically take less than two hours.